CIAS
Cognitive impairment associated with schizophrenia is a core and disabling facet of the disease.
Cognitive Impairment Associated with Schizophrenia (CIAS)
Schizophrenia is a complex, chronic, and disabling disorder. People with schizophrenia experience a spectrum of positive symptoms (eg, hallucinations, delusions, and disorganized thinking), negative symptoms (eg, blunted affect, alogia, avolition, asociality, and anhedonia), and impaired cognition, including impairments in attention, memory, and executive function.
Cognitive impairment is a debilitating core element of schizophrenia—yet no approved therapy exists.
Nearly all people with schizophrenia (98%) have cognitive deficits.

Worldwide, at least 21M people suffer from schizophrenia, including 2.7M in the US.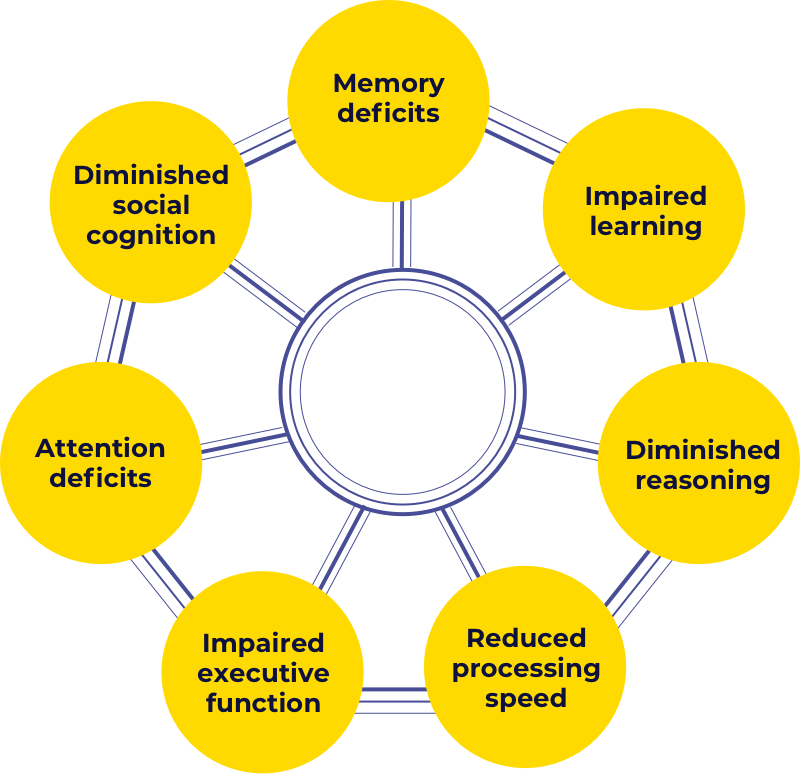 Deficits in perception and cognition in schizophrenia are associated with poor social and vocational functioning.

Over three-quarters of the estimated US annual cost of schizophrenia ($281B in 2020) is attributable to indirect costs including costs due to unemployment and productivity loss.
CY6463 may help improve CIAS symptoms by:
Increasing the ability to participate fully in the community and live independently.
The NO-sGC-cGMP pathway plays a critical role in multiple physiological processes underlying overall brain health and function, including processes involved in learning and memory.
Deficient NO-sGC-cGMP signaling has been linked to cognitive impairment, including in people with schizophrenia.
Cognitive Impairment
As an sGC stimulator that amplifies endogenous NO-sGC-cGMP signaling, CY6463 may restore deficient signaling and thereby improve cognition in people with schizophrenia.
Enrollment in Study C6463-103 is ongoing
Objectives
Evaluate safety, tolerability, and explore CY6463 effects on brain neurophysiology and cognitive performance
Efficiently assess the near-term impact on disease-specific biomarkers
Inform selection of dose, patient profile, and biomarkers for subsequent larger and longer trials
Design
14-day, in-clinic, randomized, placebo-controlled, blinded
Once-daily CY6463 dosing across sequential cohorts
Patient Population
Up to 60 psychiatrically stable adults with schizophrenia
Must be on stable antipsychotic regimen
To learn more about the study,
see the study listing on ClinicalTrials.gov

References
Bowie CR, Harvey PD. Cognitive deficits and functional outcome in schizophrenia. Neuropsychiatr Dis Treat. 2006;2(4):531-36. doi:10.2147/nedt.2006.2.4.531
Candemir E, Kollert L, Weißflog L, Geis M, Müller A, Post AM, O'Leary A, Harro J, Reif A, Freudenberg F. Interaction of NOS1AP with the NOS-I PDZ domain: Implications for schizophrenia-related alterations in dendritic morphology. Eur Neuropsychopharmacol. 2016 Apr;26(4):741-55. doi: 10.1016/j.euroneuro.2016.01.008. Epub 2016 Jan 28. PMID: 26861996
Charlson FJ, Ferrari AJ, Santomauro DF, et al. Global epidemiology and burden of schizophrenia: findings from the global burden of disease study 2016. Schizophr Bull. 2018;44(6):1195-1203. doi:10.1093/schbul/sby058 https://www.ncbi.nlm.nih.gov/pmc/articles/PMC6192504/
Eastwood SL. Does the CAPON gene confer susceptibility to schizophrenia? PLoS Med. 2005;2(10):e348. doi:10.1371/journal.pmed.0020348
Freudenberg F, Alttoa A, Reif A. Neuronal nitric oxide synthase (NOS1) and its adaptor, NOS1AP, as a genetic risk factors for psychiatric disorders. Genes Brain Behav. 2015 Jan;14(1):46-63. doi: 10.1111/gbb.12193. PMID: 25612209
Keefe RS, Eesley CE, Poe MP. Defining a cognitive function decrement in schizophrenia. Biol Psychiatry. 2005 Mar 15;57(6):688-91. doi: 10.1016/j.biopsych.2005.01.003. PMID: 15780858.
Keefe RS, Harvey PD. Cognitive impairment in schizophrenia. Handb Exp Pharmacol. 2012;(213):11-37
Nuechterlein KH, Green MF, Kern RS, Baade LE, et al. The MATRICS Consensus Cognitive Battery, part 1: test selection, reliability, and validity. Am J Psychiatry. 2008 Feb;165(2):203-13. doi: 10.1176/appi.ajp.2007.07010042. Epub 2008 Jan 2. PMID: 18172019
Reif A, Herterich S, Strobel A, et al. A neuronal nitric oxide synthase (NOS-I) haplotype associated with schizophrenia modifies prefrontal cortex function. Mol Psychiatry. 2006 Mar;11(3):286-300. doi: 10.1038/sj.mp.4001779. PMID: 16389274
Schizophrenia and Psychosis Action Alliance (S&PAA) (July 2021). Societal costs of schizophrenia & related disorders. From https://sczaction.org/wp-content/uploads/2021/07/Final-White-Paper.pdf
Wander C. Schizophrenia: opportunities to improve outcomes and reduce economic burden through managed care. Am J Manag Care. 2020;26:S62 S68. https://doi.org/10.37765/ajmc.2020.43013
Xu B, Wratten N, Charych EI, Buyske S, Firestein BL, Brzustowicz LM. Increased expression in dorsolateral prefrontal cortex of CAPON in schizophrenia and bipolar disorder. PLoS Med 2005;2(10): e263. https://doi.org/10.1371/journal.pmed.0020263