MELAS
Mitochondrial Encephalopathy, Lactic Acidosis, and Stroke-like episodes (MELAS) is one of the most common and severe mitochondrial diseases.
Mitochondrial diseases are a group of rare genetic disorders that affect the function of mitochondria, the powerhouses of the cell. Mitochondrial disease can affect almost any part of the body. The tissues and organs that are most often affected are those with the highest energy demands, such as the brain, heart, eyes, and skeletal muscles. It is estimated that about 1 in 4,300 individuals has a mitochondrial disease, and ~80% of individuals with mitochondrial disease have CNS symptoms.
MELAS is a genetically defined orphan disease for which there is no approved treatment.  he defining features of MELAS are stroke-like episodes and lactic acidosis, a buildup of lactic acid in the bloodstream. Other common CNS symptoms include seizures, headaches, migraines, and cognitive impairment.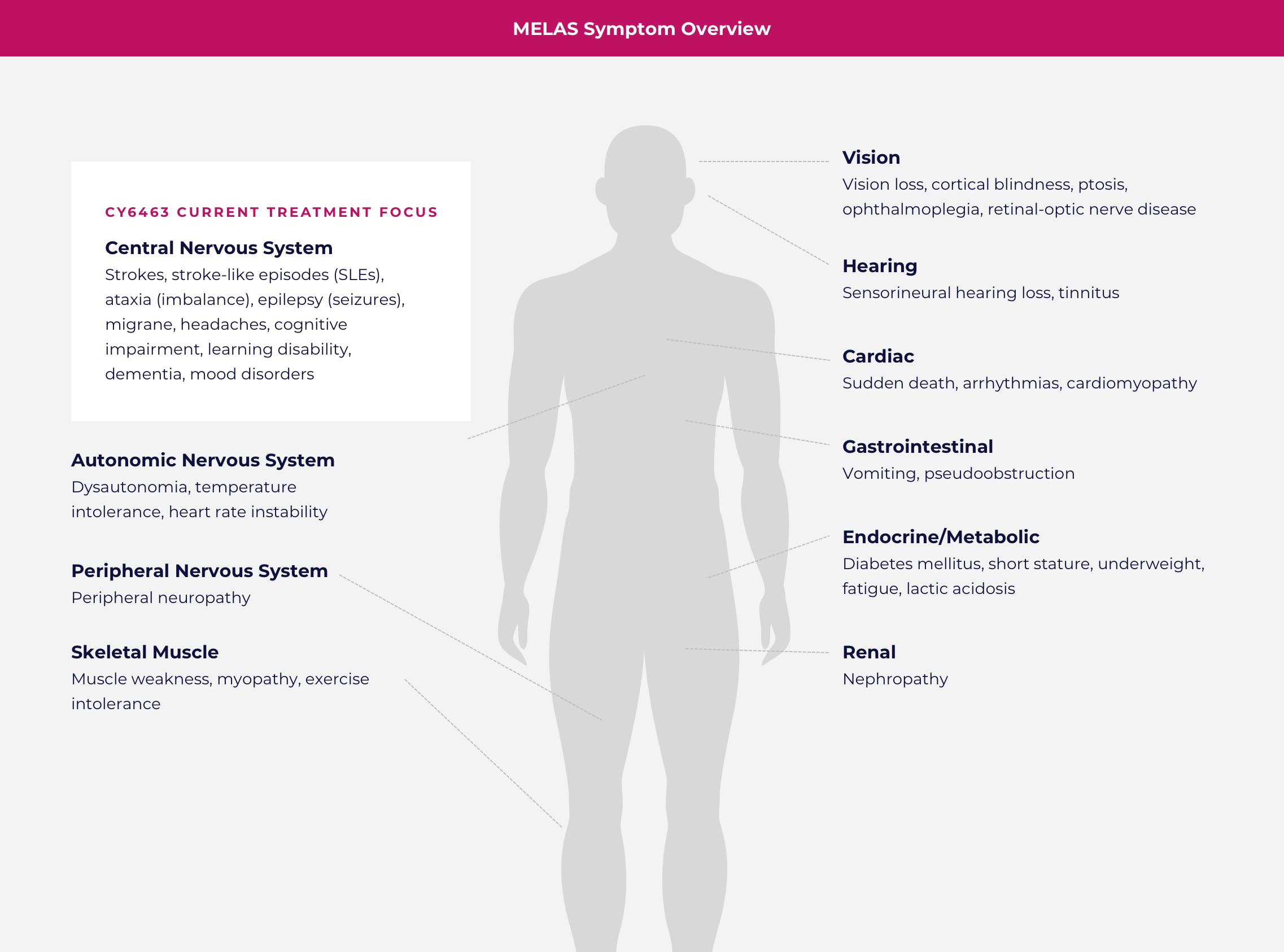 sGC stimulation may have beneficial effects on several key pathological mechanisms of mitochondrial disease. The NO-sGC-cGMP signaling pathway is critical for the regulation of mitochondrial function and biogenesis.
Scientific Rationale for MELAS
Clinical precedence for NO-sGC-cGMP pathway
Though not FDA-approved, L-Arginine (NO precursor) recommended for acute treatment of stroke based on limited supportive evidence
Pathophysiology
CNS metabolic dysfunction, elevated lactate, decreased NO
CNS vascular pathology – impaired blood flow, inflammation, endothelial dysfunction, small vessel disease
CY6463 Pharmacology
Preclinical data suggest CY6463 has the potential to improve mitochondrial function and cerebral blood flow
MELAS Phase 2a
Enrichment Strategy
Genetically defined MELAS with neurological features and elevated plasma lactate (disease biomarker)
Treatment
Once-daily, oral CY6463
29 Days
Up to 20 adults (targeting 12 completers)
Objectives
Evaluate safety, tolerability, and pharmacodynamics
Assess near-term impact on disease-specific biomarkers
De-risk and accelerate future development
References
El-Hattab AW, Adesina AM, Jones J, Scaglia F. MELAS syndrome: Clinical manifestations, pathogenesis, and treatment options. Mol Genet Metab. 2015;116(1-2):4-12


This comprehensive review of MELAS syndrome outlines the variable multiorgan manifestations that can result from mutations in the extra-chromosomal DNA of mitochondria. Tables 1 and 2 summarize the initial and overall manifestations and their frequencies, respectively, while the text reviews these manifestations by organ system. Over 75% of people with MELAS have stroke-like episodes, dementia, epilepsy, lactic acidemia, exercise intolerance hemiparesis, cortical vision loss, recurrent headaches, hearing impairment and muscle weakness; a host of other manifestations occur at lower frequencies. While MELAS is caused by mutation(s) in mitochondrial DNA, the MELAS phenotypes or manifestations are linked to several interacting pathogenic mechanisms: energy deficiency, microvascular angiopathy, and nitric oxide (NO) deficiency. In particular, NO deficiency originating from impaired mitochondrial function results in multiple hits to normal pathway function including reduced bioavailability of NO precursors and impaired NO synthase. The pathogenesis of the multiple complications in MELAS in relation to NO pathway dysfunction and deficiency are reviewed. The phenotypic variability and heteroplasmic nature of the mitochondrial mutation are discussed. Finally, management of MELAS syndrome, which is largely symptomatic and ranges across disciplines, is reviewed. There are no approved therapies for MELAS; supplements are often used. Intravenous and oral L-arginine, an NO precursor, given during the acute and interictal phases, respectively, of stroke-like episodes may improve symptoms and reduce severity and frequency. Citrulline, also an NO precursor, has additionally been suggested to have similar therapeutic potential.