MELAS
Mitochondrial Encephalomyopathy, Lactic Acidosis, and Stroke-like episodes (MELAS) is one of the most common and severe mitochondrial diseases.
Mitochondrial diseases are a group of rare genetic disorders that affect the function of mitochondria, the powerhouses of the cell. Mitochondrial disease can affect almost any part of the body. The tissues and organs that are most often affected are those with the highest energy demands, such as the brain, heart, eyes, and skeletal muscles. It is estimated that about 1 in 4,300 individuals has a mitochondrial disease, and ~80% of individuals with mitochondrial disease have CNS symptoms.
MELAS is a genetically defined orphan disease that affects multiple organ systems, including the CNS, with different degrees of severity, and for which there is currently no approved treatment. MELAS is caused by some of the most common mitochondrial DNA mutations affecting the mitochondrial tRNA, and results in large clusters of familial cases of primary mitochondrial diseases (PMD). The defining features of MELAS are stroke-like episodes and lactic acidosis, a buildup of lactic acid in the bloodstream. Other common CNS symptoms include seizures, headaches, migraines, and cognitive impairment.
The unmet need in MELAS is immense, symptoms can affect virtually any organ and cause intense fatigue, muscle weakness, and pain, in addition to neurological manifestations. Life expectancy is estimated at ~17 years from onset of CNS symptoms. The disease impedes the individual's ability to live independently and leads to social isolation and overall reduced quality of life.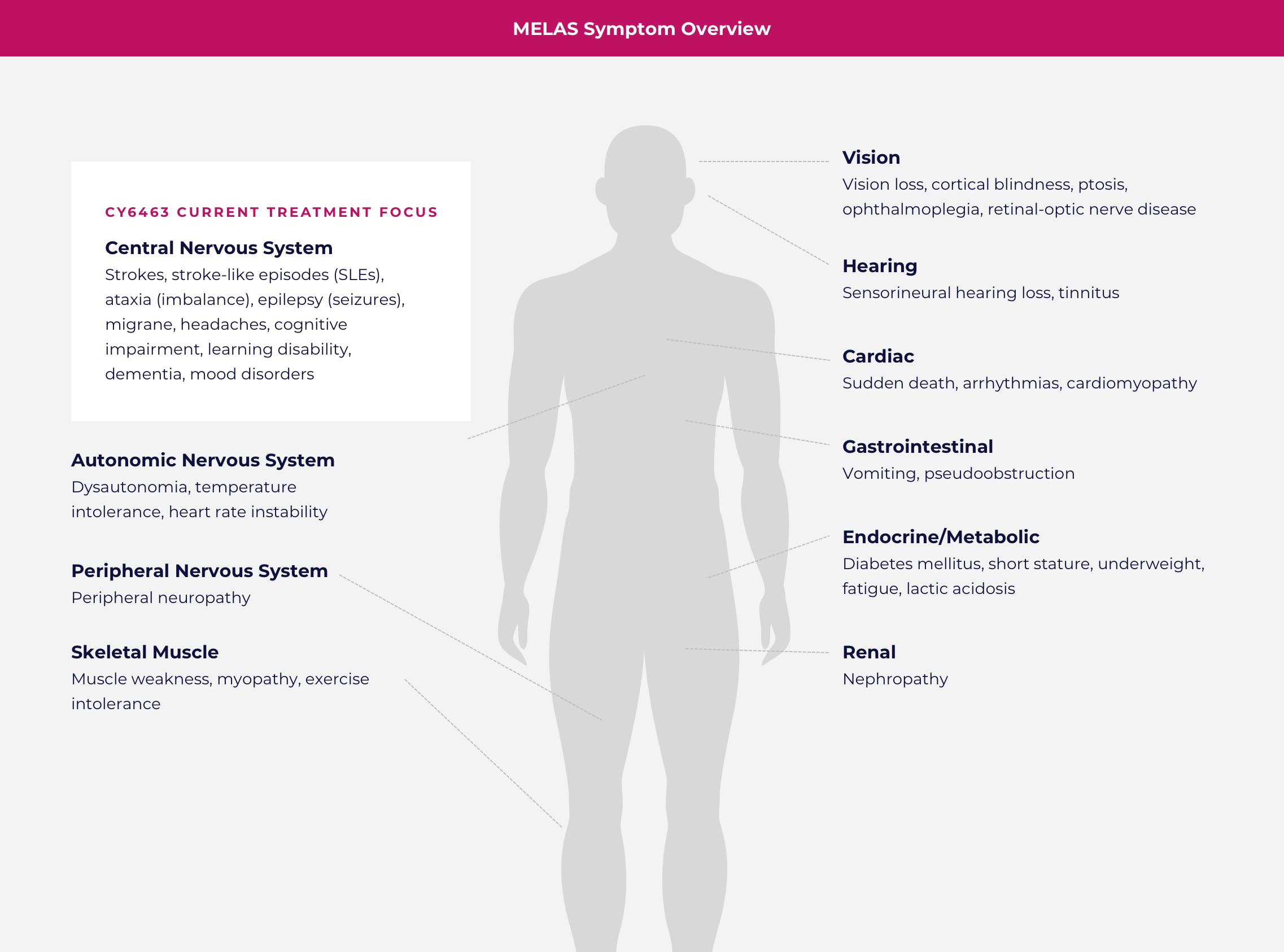 Strong therapeutic rationale for stimulating NO-sGC-cGMP pathway to treat mitochondrial disease
sGC stimulation may have beneficial effects on several key pathological mechanisms of mitochondrial disease. The NO-sGC-cGMP signaling pathway is critical for the regulation of mitochondrial function and biogenesis.
Scientific Rationale for MELAS
Clinical precedence for NO-sGC-cGMP pathway
Though not FDA-approved, L-Arginine (NO precursor) recommended for acute treatment of stroke by the Mitochondrial Medicine Society
Pathophysiology
CNS metabolic dysfunction, elevated lactate, decreased NO
CNS vascular pathology – impaired blood flow, inflammation, endothelial dysfunction, small vessel disease
CY6463 Pharmacology
Preclinical data suggest CY6463 has the potential to improve mitochondrial function and cerebral blood flow
MELAS clinical data demonstrate that CY6463 has potential as breakthrough therapeutic
We have completed a Phase 2a multi-center, open-label study of CY6463 in participants with MELAS at medical centers of excellence for mitochondrial diseases. The study enrolled eight participants who spanned a range of disease severity; 6 of the 8 (75%) were also taking a daily regimen of oral arginine or citrulline, precursors to nitric oxide that are often prescribed as standard of care for MELAS patients.
In addition to safety, the study assessed the impact of short-term CY6463 treatment on biomarkers of mitochondrial dysfunction, brain perfusion, neurodegeneration, and cognition.
Over the course of this 29-day study, CY6463 demonstrated:
Improvements across four domains important in MELAS:
Biomarkers associated with mitochondrial function, including lactate and GDF-15
Broad panel of inflammatory biomarkers
Cerebral blood flow (CBF) across all brain regions
Increased functional connectivity between brain regions and response to visual stimulus as measured by fMRI BOLD
Strong safety/tolerability, no serious adverse events
Oral, once-daily administration
CNS exposure
Visual-evoked fMRI BOLD signal by visit shows occipital region activation by CY6463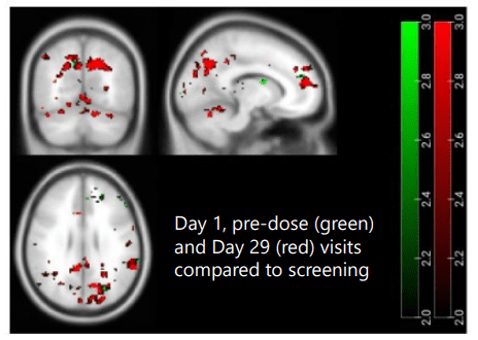 Whole -brain voxelwise statistical parametric maps (SPM) of task-based fMRI visual activation at day 1 pre-dose (green) and day 29 (red) visits compared to screening. Maps thresholded a t = 2.0 for exploratory visualization.
Following the results from our Phase 2a study, we are currently exploring the potential of an expedited clinical development path for CY6463 in MELAS.
Q2/3 2022
Engaging expert advisors and refining development plan
2H 2022
FDA meeting to align on path to approval
2023
Initiate registrational study*
*pending alignment with FDA
References
El-Hattab AW, Adesina AM, Jones J, Scaglia F. MELAS syndrome: Clinical manifestations, pathogenesis, and treatment options. Mol Genet Metab. 2015;116(1-2):4-12
Hubens WHG, Vallbona-Garcia A, de Coo IFM, van Tienen FHJ, Webers CAB, Smeets HJM, Gorgels TGMF. Blood biomarkers for assessment of mitochondrial dysfunction: An expert review. Mitochondrion. 2022 Jan;62:187-204. doi: 10.1016/j.mito.2021.10.008. Epub 2021 Nov 2. PMID: 34740866.
Maresca A, Del Dotto V, Romagnoli M, La Morgia C, Di Vito L, Capristo M, Valentino ML, Carelli V; ER-MITO Study Group. Expanding and validating the biomarkers for mitochondrial diseases. J Mol Med (Berl). 2020 Oct;98(10):1467-1478. doi: 10.1007/s00109-020-01967-y. Epub 2020 Aug 26. PMID: 32851462; PMCID: PMC7524861