Our Team
We are led by an accomplished team with an exceptional track record of discovering, developing, and commercializing meaningful therapies for patients while creating value for stockholders. Our founding team has deep knowledge and significant experience in cGMP pathway research and development.

A Novel Leadership Model to Drive Innovation
We have created a novel leadership model to efficiently advance a pipeline of potential treatments for serious diseases of the CNS. The traditional pharmaceutical model often has research, development, customer insights, and external innovation working separately and in silos. We are taking a different approach; our Innovation Center gathers our deep expertise in research, in development, in customer insights, and in external innovation together in one team, where we work together to optimize our drug candidates as we strive to make them into innovative products that address unmet medical needs in a complex commercial environment. This highly integrated approach, with an emphasis on shared ownership, is designed to overcome inefficiencies often inherent in drug research and development and help accelerate our goal to deliver meaningful medicines to patients and value to the healthcare system and our shareholders.
Our Innovation Center includes the traditional Research and Development functions and will also add Strategic Insights and External Innovation. The Research function is the heart of our innovation engine; this is where new drug candidates are invented and vetted for their likelihood to succeed in the clinic. The Development function brings deep expertise in clinical trial design and execution, regulatory strategy, and pharmaceutical drug development in order to gather critical data on the clinical value of our investigational medicines. The Strategic Insights function is responsible for bringing the voices of patients, patient advocacy groups, payers, and physicians to enhance our ability to create new medicines that will make a meaningful difference. The External Innovation function is responsible for engaging and managing our partnerships – both academic and industry partners – to maximize the value of our current pipeline and to build out our portfolio over time.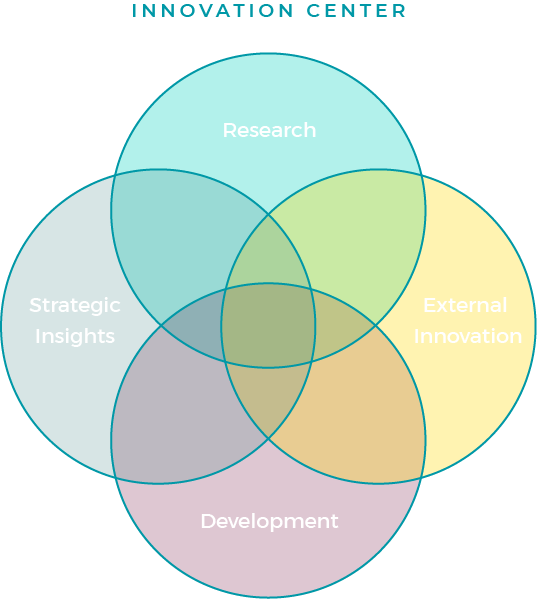 We are
determined

to create medicines that bring significant benefit to patients. We are

committed

to making a difference.